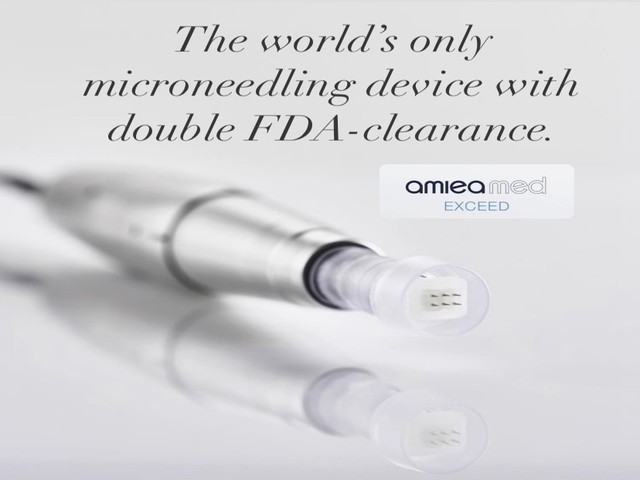 Move your career or salon into Advanced Skincare with this 2 day Intensive Course. Collagen Stimulation Therapy™ (CST), Micro-needling or Collagen Induction Therapy (CIT), is a cutting-edge treatment that harnesses your body's natural powers of healing to treat many skin problems with outstanding results and minimal downtime. During this revolutionary procedure, a topical anaesthetic is applied to ensure a comfortable treatment (Patch test required). Then using a Derma Roller or Derma Pen containing tiny needles to create thousands of microscopic channels (tiny holes) in the lower levels of your skin, allowing the active ingredients to penetrate from the surface into the dermal tissue.
The body responds to CST in the same way it would react to an injury. The small amount of bleeding caused during treatment releases powerful growth factors which are part of a natural healing response, promotes the production of new collagen and also provides a more effective penetration of the active ingredients (200 times more) in the stratum corneum. Afterwards, the skin thickness is increased by up to 80%, scars are smoothed and stretch marks and the appearance of wrinkles are reduced.
Clients favour the minimally invasive treatment for a range of reasons, it is especially effective for improving signs of skin ageing, appearance of wrinkles, hyperpigmentation, scarring, slackened skin, stretch marks, dull skin, dilated blood vessels and even reducing cellulite. Collagen Stimulation Therapy™ can be done on all areas of the face and body and is suitable for all skin types.
Type:

ADVANCED SKIN - DAY COURSE

Tuition:

£1,250.00

Requirements:

Janseen Kit

Examination Fees:

£150.00

Deposit:

N/A
Start Date:

Mon, 22nd January 2024

Day(s):

Mondays

Time:

10.00 a.m. - 4.00 p.m.
Microneedling also known as "Collegen Induction Therapy" and " Skin Needling".
Involves hundreds of tiny needles pucnturing the skin. This method can be used to enhance the delivery of active ingredients in skin care, aid regeneration of skn and stimulate a natural production of healthy collagen and elastin, promotin smoother skin and a more radiant, youthful complexion.
Fine lines and wrinkles
Scarring
Enlarged prote
Pigmentation
Photo damage
Dehyration
Loss of elasticity
Stretch marks
Dulland lifeless complexion
Uneven texture and tone
The aim of this qualification to develop learners' knowledge, understanding and practical skills when using cosmetic skin needling techniques. It covers the skills involved in providing a thorough consultation to establish client suitability for treatment and also the knowledge on how to formulate a specific treatment plan tailored to suit individual client needs. Learners will also develop the knowledge required to provide pre and posttreatment advice and post care to ensure the client receives the full benefit of the treatment.
Certification
VTCT & ITEC Level 4 Certificate in Microneedling
Entry Requirements
Level 2 or higher Beauty Therapy qualification
Microneedling experience
Learners with no experience must attend the one day mccosmetics Skin Needling course 9th September
Course Content
Advanced Skincare for non medical aesthetic therapies
Understand the physiology of skin ageing
Understand advanced skin assessment
Prepare for advanced skin assessment
Provide advanced skin assessment
Principles & Practices for non medical therapies
Understand the developments of non-medical aesthetic therapies
Know the benefits and limitations of commonly available non-medical aesthetic therapies
Understand the importance of professional conduct in non-medical aesthetic therapies
Know the key regulations, legislative influences and responsibilities relating to non-medical aesthetic therapies
Understand advanced contra-actions, hygiene issues and medical emergencies of specific concern to non-medical aesthetic therapies
Advanced Consultation for non medical aesthetic therapists
Understand how effective communication and professional behaviours contribute to client trust
Understand methods and processes for gaining information through consultation
Know the importance of completing a thorough consultation
Understand the legal requirements for completing consultation
Know the information required when completing a consultation
Know the requirements for recording procedures
Provide Cosmetic Skin Needling
Know safety considerations when providing cosmetic skin needling treatments
Understand how to provide cosmetic skin needling treatments
Know the relevant anatomy, physiology and pathologies for cosmetic skin needling
Be able to consult, plan and prepare for cosmetic skin needling treatment
Be able to provide cosmetic skin needling treatments
Assessment
You will be assessed through both internal assessment and external examination.
MCQ Theory Paper
Assignments
Practical Observations
6 x Clinical Case Studies
Fees
€1550
Deposit €550
Balance can be paid in installments
Course Duration
The course will be delivered over 9 days
Advanced Skincare and Advanced Consultation Units: 24th & 25th May
Skin Needling Unit: 28th, 29th June, 12th, 13th July
Clinical Assessment: 20th, 26th, 27th July
Examination – Theory 9th August, Practical 10th August