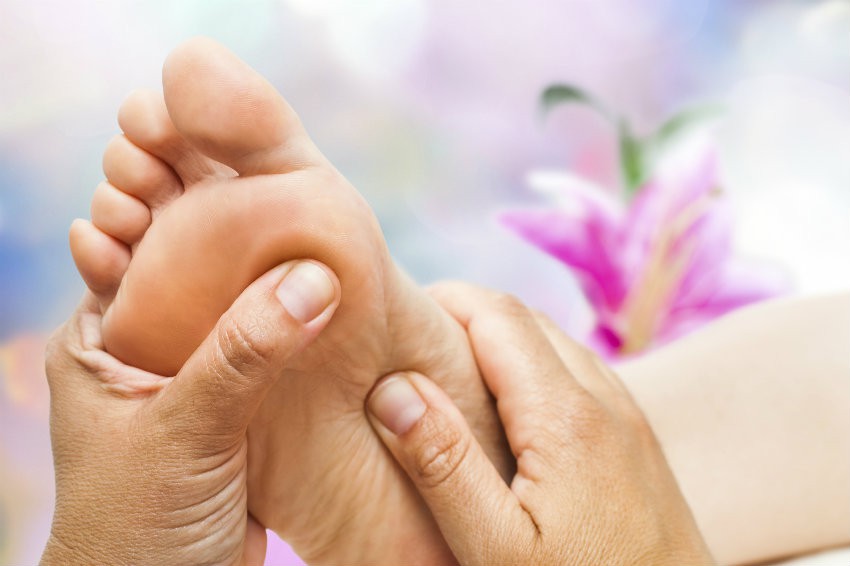 This Level 3 Diploma in Reflexology is designed for those who have a beauty therapy or holistic background and knowledge of human anatomy and physiology.
The art of Reflexology treatment is based on ancient therapies dating back as far as 2500 – 2330BC, being first used by the Egyptians, Chinese and American Indians. Reflexology is a holistic therapy working on the body, mind and soul to generate a healing response in the body. The treatment works on specific reflex points in the hands and feet to bring about effects on all other physiological and psychological functions. Reflexology is a relaxing non-invasive treatment carried out with the client comfortably clothed, need only to remove socks and shoes, that can be given in a variety of surroundings and requires little product or equipment.
This service has become widely available at spas and salons, complementary therapy clinics, wellness centres, NHS in hospitals and care homes. You can also set up a treatment room in your own home.
Pre-requisite
Students will need to either hold or be working towards a CIBTAC Anatomy & Physiology Diploma / NVQ Beauty Therapy Level 3 or equivalent. Please send in a photocopy of qualification/s with application.
Additional entry requirements
IT literate (Internet use, Microsoft office)
You will need to be a self-motivated individual, willing to complete and achieve
Have access to models to carryout case studies
Qualification
This course is currently being accredited by VTCT (Vocational Training Charitable Trust). You will gain a VTCT Level 3 Diploma in Reflexology (QCF) upon completion of the course and successful practical assessment on the final day of the course This qualification is recognised by the UK's leading professional association, the British Association of Beauty Therapy and Cosmetology (BABTAC). Once qualified you will be eligible to become a professional member of BABTAC and gain insurance as a reflexologist. Further information on BABTAC membership can be found on their website. For continuing professional development this course carries CPD credits.
Type:

MASSAGE COURSE

Tuition:

£895.00

Requirements:

£50.00 course books

Examination Fees:

£155.00

Deposit:

N/A
Start Date:

Sun, 28th March 2021

Day(s):

Sunday

Time:

10.00 a.m. - 4.00 p.m.
Course information
On this course students will learn the history and theory of reflexology, an introduction to the five energy concepts and meridians of Chinese medicine, reflex areas in the foot and their connection to the body's systems, pressure-point massage and the contra-indications. You will also learn how to conduct a consultation and design a programme based on the holistic aspects.
This work-based, professional qualification is delivered via a 10-day tutor-led classroom tutorial, online learning, ongoing tutor support throughout the course, and is assessed via observation in a realistic training environment, written questioning, professional discussion and review of portfolio evidence. We have a maximum number of 12 candidates on our course, to ensure that all our learners receive the personal guidance and support they need.
How the course works
If you wish to enroll on this course call us on 028 90352662 or apply online
When we receive your application we will contact you to carry out a telephone interview. If you want to enroll the next step is to pay your deposit of £250 to secure your place. Prior to the course start date your will receive a telephone induction. On day 1 of the course you will receive your workbook and access to the course notes on our learning portal. Then you attend the 10-day tutor-led classroom based course and complete your coursework assignments and case studies. The course is completed over a 6-12 month period
Assessment
The course is taught as a fast track and intensive program. It is covered over a total period of 10 days spaced out over 6-12 months allowing you time to revise and complete your reflexology case studies. Trainees will initially learn on each other, and home practice with the completion of 12 case studies (12 clients x 4 treatments inclusive of hands and foot reflexology), returning for a troubleshooting session and practical assessment on the final day of training.
Course syllabus
Health and safety
Professional ethics
Hygienic practice
The history & definition of reflexology
The holistic approach
Reflexology and stress
Pathology
Anatomy and physiology revision
Anatomy of hands and feet
Disorders of the feet
Contraindication and contra actions
Consultations
After care advice
Aims and benefits of treatment
Effects of reflexology
Reflexology zones
Reflex charts & mapping of the feet
Hand reflexology
Treatment & client preparation
Reflexology technique & sequence
Practical demonstration
Practical reflexology treatment
Professional practice and management
Case studies
Course numbers
Minimum 6, maximum 12 trainees
Equipment Needed
All products and materials will be provided for the duration of the course
Dress code
A therapy uniform is required
Examination
Practical Assessment - 1.5 hours practical assessment