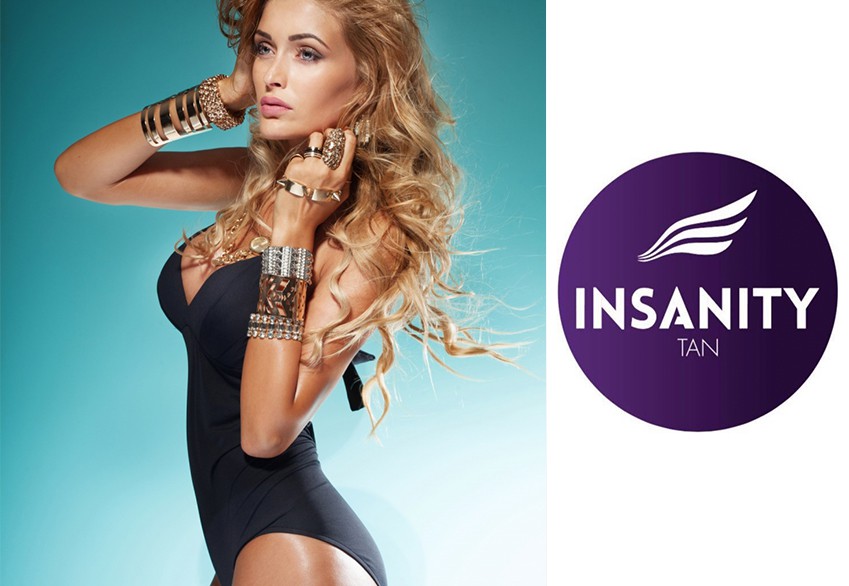 Learn how to create a natural beautiful, safe and all over glowing instant tan. Insanity Tan is a new Northern Ireland brand, which has quickly taken the tanning world by storm and we have to say, we're super impressed.
You know all those things that you HATE about spray tans?! Insanity has created a revolutionary tan which is premium organic and hypoallergenic, offering a range of skincare which is kind to the skin, and perfectly formulated to ensure a natural looking, streak-free tan.
This intensive course in the Insanity tan spray tanning system will teach you how to apply a professional streak free uniform tan in a matter of minutes and is designed to give you confidence and practical ability to start practicing as a spray tan technician. Spray or airbrushed tanning has revolutionised the way we tan and is one of the most highly requested treatments in today's beauty industry. Spray tanning has a huge earning potential at up to £20-£30 per treatment, with clients returning for regular appointments. Spray tanning gives your client a natural looking, flawless spray tan without the risk of UV rays.
Pre-requisite
This course is suitable for beginners. No previous experience or existing qualification required.
Qualification
You will gain an accredited diploma upon completion of the course and will be able to work professionally within the industry and charge paying clients. This course is accredited by BABTAC (British Association of Beauty Therapy and Cosmetology) which allows you to obtain public liability insurance. For continuing professional development this course carries 8 CPD credits.
Type:

SHORT COURSES - DAY

Tuition:

£75.00 (1-2-1 training £125.00)

Requirements:

£150 - £250 (kit optional)

Examination Fees:

£45.00 Babtac Diploma

Deposit:

£120.00
Start Date:

Tue, 28th June 2022

Day(s):

Tuesday

Time:

10.00 a.m -1.30 p.m
Course requirements
Students must be prepared to work on each other. In preparation for the course students must fully exfoliate the night before the course and must not use wax, shave their legs or use cream hair remover a minimum of 12 hours before the course. Please make sure that you wear black underwear and black loose fitting clothing. Also avoid tight fitting shoes or boots if possible. Leave jewellery at home, remove all make up, deodorant, and do not apply moisturiser on the morning of the course. Disposable underwear is provided but students may wear a bikini/black strapless bra.
It is preferable to arrive without make-up as this saves time although product can be sprayed over a light make-up. Alternatively cleansing products are available at the college. If you have sensitivity to certain products please bring your own cosmetic remover with you on the day. If you do not wish to be sprayed on the course you are required to bring a model along with you to work on throughout the day.
Exclusive 1-2-1 training available
We offer exclusive 1-2-1 training for this amazing brand, student minimum of 1 and maximum 4. This carries an extra £50 charged on tuition. Advantage of this option is that you can book your training date / time at your convenience and due to individual attention you will receive from the educator you will be fully competent in spray tanning techniques at the end of the training course. 3 models will be required on the day or evening of training to arrive 1 hour after the course commences, one model is for the trainer to demonstrate on and one for you to practice on, and 1 for your assessment practice. At the end of the class if there is time students can spray each other.
Assessment
The course consists of theory and practical, with class assement throughout the day. Certificates will be awarded to candidates after practical assessment on the day of training. With regular practice students speed, accuracy and confidence will improve over time. On completing the workshop we recommended home practice on 8-12 clients to perfect your spray tanning techniques.
Course content
Introduction to the course
Treatment benefits for spray tanning
Professional standards
Hygiene
Health and safety
Anatomy and physiology
Introduction to fantasy tan
Product knowledge
Insanity Tan sunspray range
Contra indications and contra actions
Consultation
Pre care and aftercare
Treatment set-up
Treatment guidelines
Spray tan procedure
Air brush and gun maintenance
Frequently asked questions
Marketing and promotion
Tan kit promotional offer from £150 - £250
An ideal choice for a small salon or a mobile therapist, this great value package includes everything you need to get started with Insanity Tan and gives you up to 20 spray tans so if you charge an average of £25 per treatment you can make £500 meaning huge profits. Available through Bronze Direct distributors and can either be pre-ordered before the course date or ordered on the training day.
1 X HVLP turbine tanning system with spray tanning gun
1 X spray tan cubicle (pop-up tent)
1 X free litre of insanity tanning solution
1 x promotional poster
12 x promotional leaflets
1 pack of customer care cards
Course numbers
Maximum 6 -12 trainees
Equipment needed
All products and materials will be provided for the duration of the course
Dress code
If you are being sprayed wear dark loose fitting clothing, otherwise a beauty therapy uniform is required.
Examination:
Class assessment