Lava Shells Massage Course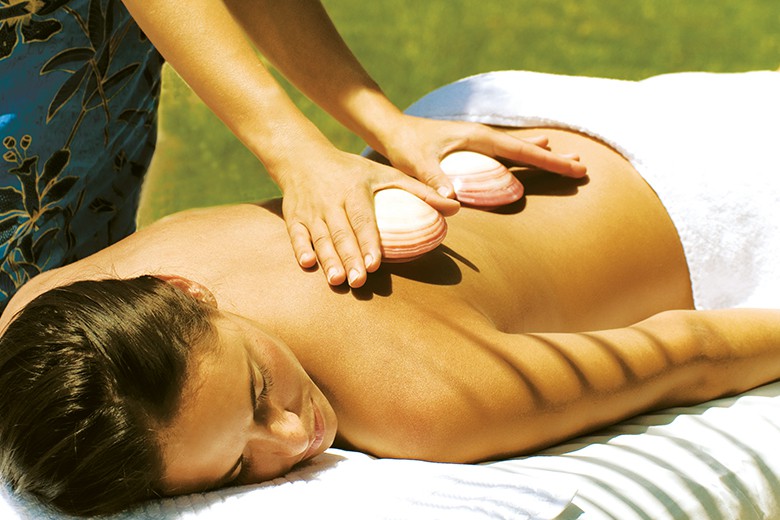 Here at Bronwyn Conroy Beauty Salon School, we're always on the look out for the latest in innovative beauty treatments, and one which has caught our eye for all the right reasons, is the Lava Shell Massage. If you haven't heard of it… where have you been?! Hailed by Vogue Magazine as "the new hot stones", as well as getting Sir Richard Branson's seal of approval, Lava Shell Massage is quickly becoming one of the most popular massage treatments in beauty salons and spas around the world. So what exactly are they and what is it about them that has gained a celebrity following?
What are Lava Shells?
Here's the lowdown… Lava Shells are the world's first self-heating massage tool. A patented, natural, biodegradable heat technology is incorporated into the Lava Shells, which then emits heat for over one hour, allowing therapists to provide a continuous and seamless body massage of heat and touch. Amazing… we know!
Their unique, curved shape and angles means they become an extension of the therapist's own hands, allowing him or her to deploy deeply therapeutic relief where it is needed. Take our word for it, it feels just as dreamy as it sounds!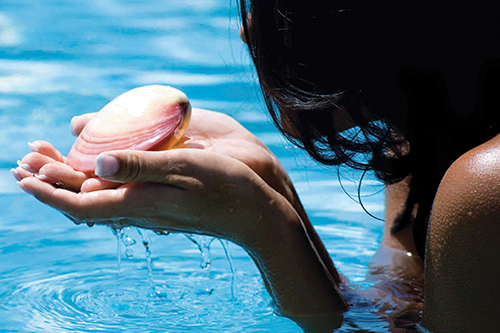 Where do Lava Shells come from?
These magical shells are actually tiger clams, native to the oceans surrounding the Philippines. For over 100 years, local villagers had been collecting the shells and discarding them as they found no use for them. Thankfully, a purpose has been found! The locals now prepare the shell for use in massage by sand polishing, which gives them an even smoother finish, before gluing them back together. Finally, a small hole is drilled, which allows the therapist to place the heating sachet inside to give it a boost of warmth, which continues throughout treatment.
The porcelain shells are handcrafted using high quality porcelain and crushed shells. Each porcelain shell is hand painted, replicating the beautiful lustre and appearance of natural shells. They are crafted from the ideal ergonomic natural shell and are more uniform in size and thickness.
Lava Shell Massage has quickly become one of the most popular massage treatments in beauty salons and spas around the world, which isn't surprising really! In fact, Sir Richard Branson loves them so much that he has added it to his list of treatments in his spa on Necker Island! If it's good enough for him, it's good enough for us!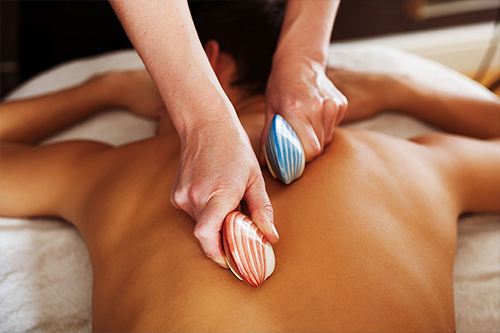 Lava Relax Body Massage training
With an increase in demand for the world renowned treatment, it isn't surprising that spas and salons require therapists who are fully skilled in the technique. Due to its popularity, here at Bronwyn Conroy Beauty Salon School, we are now offering a full day complete Lava Relax Body Massage training course in Belfast. Learners will develop a full understanding about the concept of Lava Shells and how they work to deliver a seamless treatment of continual heat and touch. Health and safety is a key part of training to ensure a full understanding of heat management. Students will be supplied with a workbook to use as a reference after training, along with a comprehensive step by step guide. You will also be given access to our online videos for support during practice sessions after the training.
To attend the course, you must be qualified in CIBTAC Body Massage, Anatomy & Physiology, NVQ Level 3 / Diploma in Body Massage, Anatomy & Physiology (or equivalent).
This one-day Lava Shells course in Belfast will take place on Monday 6th February 2017. Spaces are filling up fast so secure your place today! Click here to find out more.