Swarovski Crystal Pedicure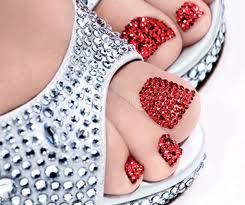 On this 1 day course you will learn how to apply this fabulous "foot bling" which is perfect for any party, wedding, summer holidays, or girls night out to make toes *sparkle*!
Exclusive to Bronwyn Conroy Students, tuition FOC and full kit for £65.00. Amazing return on investment, charging up to £50 per set getting mimumum 10 - 15 sets out of your kit - your do the maths!
Training date Sunday 1st June 2014 book now to avoid disappointment. For more information click here.