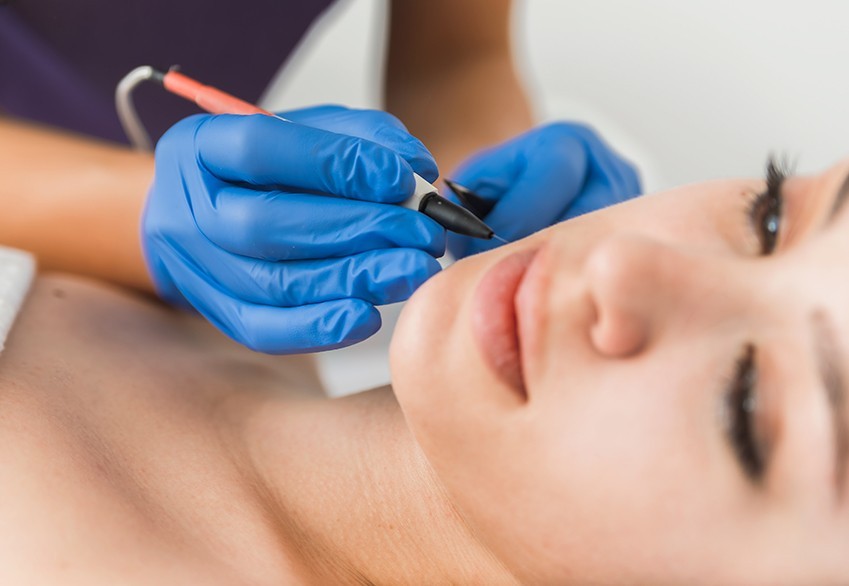 This CIBTAC Electrical Epilation Diploma course provides high quality training in Electrical Epilation also known as Electrolysis.
Electrolysis is the only medically approved method of permanent hair removal, period. Electrolysis is suitable for anyone who needs complete and permanent hair removal on any part of the body, regardless of skin tone or hair colour. It is still the only method of hair removal that is approved by the British Medical Association.
The Electrolysis Graduate will be much sought for employment in the beauty world as Electrolysis is a field that offers great growth potential, with an increase in demand within transgender treatment and the growing desire to permanently remove unwanted hair for both women and men.
On this electrolysis course you will be trained in the short-wave diathermy method of hair removal from all areas of the body and face. This qualification requires you to perform practical assessments on a variety of clients.
Entry Requirements
No previous beauty related experience is required, however a good command of the English language for communication, reading and writing is essential with GCSE English Language grade of C to A*, grades 4 to 9 or equivalent
Qualification
Successful candidates will be awarded an internationally recognised CIBTAC Electrical Epilation Diploma at UK Level 3 national standards.
This CIBTAC Electrical Epilation Diploma will enable graduates to become members of BABTAC (British association of beauty therapy and cosmetology) and obtain insurance cover to work in the UK, Ireland and overseas as a Skincare Specialist worldwide Beauty Salons, Clinics, Medical Centres and Hospitals.
Type:

ELECTRICAL EPILATION - DAY COURSE

Tuition:

£1,650.00

Requirements:

£150.00 (Uniform & Books)

Examination Fees:

£150.00

Deposit:

£650.00
Start Date:

Mon, 25th March 2024

Day(s):

Monday

Time:

9.30 p.m. - 12.30 p.m.
The CIBTAC Electrical Epilation Day Course runs from May on Monday for 12 weeks 9.30pm -.12.30pm. The examination for this course is in late August / September.
All our courses are now offered in modular format with Blended Learning, this allows you to study in your own home at a time that suits you. So that we can focus on the Practical when you are here in the school.
For the Electrical Epilation Course students attend College for 3 hours per week for Practical Learning face-to-face plus 1-2 hours online live tutorial (which are also recorded) accessible on our student eLearning Zone. We also suggest at minimum of 3-hours home study and revision. Our Tutors will however support your on-line learning with revision Q&A and weekly tests.
Students will need access to an iPad, Laptop or Computer plus a printer for the duration of the course.
Each student is responsible for their own model for mock and actual exams. These models must be fully pre-cleared for COVID compliance.
CIBTAC Electrical Epilation course covers
Skin Structure, Function & Diseases
Hair Anatomy
Endocrine System
Vascular System
Causes Of Superfluous Hair
Temporary Hair Removal Methods
Consultation & Contra-Indications
Needles & Equipment
Techniques of Electrical Epilation
Aftercare & Homecare
Generic Subjects
Health & Hygiene
Electricity
Business Studies
Salon Management
Course Requirements
The following items are required on this course and are included in the total course cost. If you already possess a tunic, then you may deselect them at the booking stage.
Course Fees Include
Bronwyn Conroy Uniform - Navy Tunic Top & Trousers
Course Notes
Access to Student eLearning & Our Practical Videos
Online Learning
Not Included in Course Fees
Sketcher Shoes
Navy Cardigan
Stationary Items
Progression
Students can go on to study
Cibtac Aesthetics - Level 3
Cibtac Body Therapy - Level 3
Examination:
The Pass Mark for CIBTAC Body Electrotherapy is 60%.
Practical: 15-30 Minutes
Theory: 45 Minute Multiple Choice Paper