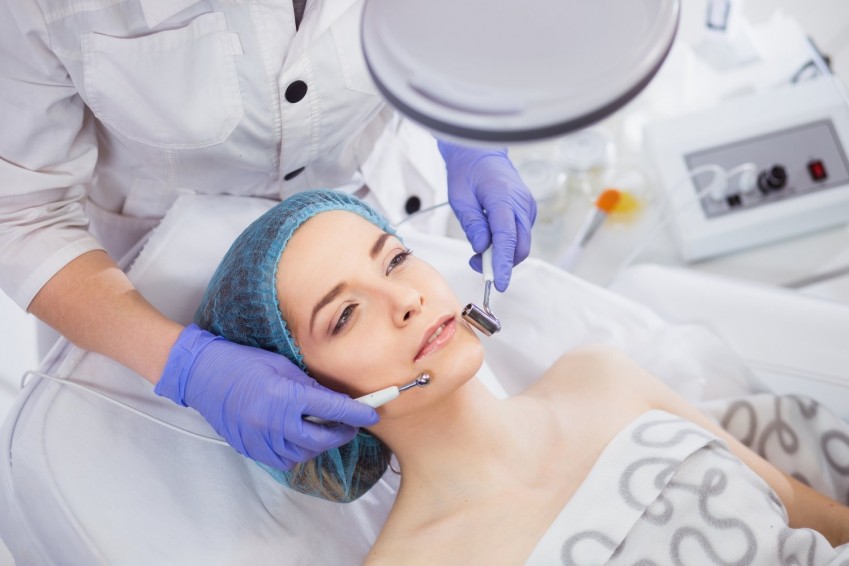 The CIBTAC Electrical Treatments Diploma Course is an ideal extension to the CIBTAC Skin Treatment qualification is for those who wish to progress further into the field of advanced skin care and provides high quality training in; Skin Analysis, Electrical Modalities; such as galvanic, high frequency, steaming, vacuum suction, faradic toning, and micro-current.
During this course you will learn how to perform a detailed skin analysis and how to devise a treatment plan for a variety of skin types using Facial Electrical modalitie. Facial Electrics Treatments can have a dramatic effect on all skin types; they improve the appearance of the skin, help postpone early signs of ageing, erase minor sun damage, scarring and pigmentation giving the Advanced Skin Therapist more choice for their client's skin care needs.
A qualification in Facial Electrical Treatments is required to train in René Guinot's world famous Hydradermie² Facial also with the International Institute of Advanced Ageing (IIAA) Environ's infamous DF Ionzyme Machine developed by famous plastic surgeon Dr Des Fernandez and not the renowned CACI non-surgical facial treatment.
Entry Requirements
In order to complete this course, a student must hold a CIBTAC skin treatments diploma or a UK Level 2 national standard qualification in beauty therapy, or equivalent. Please send in a photocopy of qualification/s with application.
Qualification
Successful candidates will be awarded an internationally recognised CIBTAC diploma at UK Level 3 national standards.
This CIBTAC Diploma will enable graduates to become members of BABTAC (British association of beauty therapy and cosmetology) and obtain insurance cover to work in the UK, Ireland and overseas as a Skincare Specialist worldwide in a Beauty Salon, Medi Spa or Skin Clinic.
Type:

SKIN SPECIALIST - DAY COURSE

Tuition:

£950.00

Requirements:

£50.00

Examination Fees:

£150.00

Deposit:

£450.00
Start Date:

Tue, 24th October 2023

Day(s):

Tuesday

Time:

9.30 a. m. - 12.30 p.m.
All our courses are now offered in modular format with Blended eLearning, students attend College for face-to-face practical protocols with Live Tutorial Lectures and our own Practical videos available online on the student eLearning Zone.
We have also added an on-line Level 3 Anatomy & Physiology Module to all our skin treatments courses, offering fully blended learning, and allowing you to study in your own home at a time that suits you. This allows us to focus on Practical when you are here in the school. Our Tutors will however support your on-line learning with revision Q&A and tests should you
For the Facial Electrotherpay course students are in the College either Tuesday 9.30am - 12.30pm or Saturday 9.30am - 1.30pm for the all modules, plus on Monday morning or evening there is 2 hours online tutor-led lectures from home. We also suggest at minimum of 3 hours home study, practice and revision.
Practical experience is an essential part of the course, the college school salon enables students to gain invaluable experience and gain confidence, providing the opportunity to work on a wide range of skin types, conditions and lifestyle factors that influence and affect skin health will help students develop strong consultation skills.
Students will need access to an iPad, Laptop or Computer plus a printer for the duration of the course.
Each student is responsible for their own model for mock and actual exams. These models must be fully pre-cleared for COVID compliance.
CIBTAC Facial Electrical Course Covers
Electricity
Contra-Indications & Contra-Actions
Skin Care & Analysis
Client Consultation, Treatment Plan & Record Keeping
Steam & Ozone
Mechanical Brush Cleansers
Direct & Indirect High Frequency
Vacuum Suction

Galvanic, Iontophoresis & Desincrustation
Faradic Electro Muscle Stimulator (EMS)
Micro-Current Theory
Practical Application of Facial Electrical Treatments
Aftercare & Homecare
Course Requirements
The following items are required on this course and are included in the total course cost. If you already possess a tunic, then you may deselect them at the booking stage.
Course Fees Include
Navy Tunic Top & Trousers
Skin Care Kit
Course Notes
Access to Student eLearning & Our Practical Videos
Online Learning
Use of Trainer Head
Not Included in Course Fees ​
Sketcher Shoes
Navy Cardigan
Stationary Items
Progression
Students can go on to study in level 3, 4 and 5.
Cibtac Advanced Skincare & Aesthetic Core of Knowledge - Level 4
Cibtac Skin Needling - Level 4
Cibtac Skin Peels - Level 4
Examination
The Pass Mark for CIBTAC is 60%.
Theory:- 20 minute Multiple Choice Theory Examination
Practical: - 1 hour 30 minutes Practical Examination