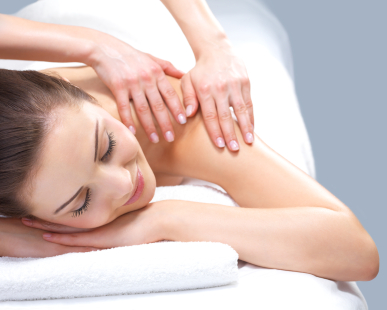 Our range of body massage therapies are tailored to the specific needs of your body, using potent plant extracts and specialised massage techniques that really deliver results.
Why not indulge yourself in some "bit of me time" choose between our signature full body swedish massage or a relaxing back massage to induce a state of calm, relieve tension for an overall feeling of complete relaxation.
Browse our extensive treatments below or download a printable pricelist here.
Body Care

Duration

Price

Swedish Body Massage

Enjoy a full body massage using traditional Swedish massage techniques. Perfect for times of physical or mental stress and exhaustion. The Swedish massage technique works both superficially and deep into the muscle tissue layers. Movements warm up the muscles, release tension and break up muscle knots leaving you feeling relaxed and pampered all over. Additional electrical treatments may be added to the programme, for training purposes, at no extra charge.

60 minutes

£15.00

Swedish Back Massage

A relaxing 20-minute back massage that concentrates on the muscles of neck and shoulders, warm essential oils are deeply massaged using Swedish techniques to soothe tired and over worked muscles. Ideal after sporting activities or simply to unwind, ease muscle pains and relax.

20 minutes
£5.00

Back & Scalp Massage

Stress and tension are dissolved during this signature back and scalp massage with heat therapy and touch of deep tissue massage. To begin muscles are warmed using infrared heat therapy, essential oils are selected to suit to your needs, to energise, relax or detox, then a 20 minute back massage that concentrates on the neck and shoulders. To conclude a soothing scalp massage and a cooling or warming gel is applied for on-going relief.

Pre-Massage Infrared Warming

Heat therapy is the perfect prerequisite to any massage treatment. The warming increases circulation to provide more effective results from your massage. Infrared warming is especially effective in treating stressed and overworked muscles and rheumatoid arthritis.

10 minutes
Free of charge